Sandsend Ness
Holiday Diary, North Yorkshire Coast, Tuesday 15th June 1999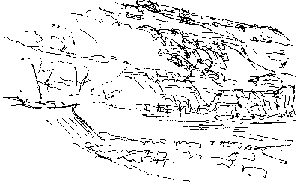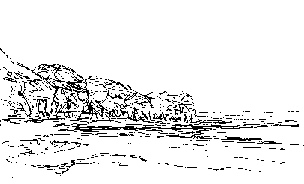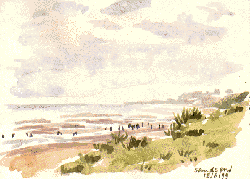 FULMAR AND HERRING GULLS nest on the Ness at Sandsend. It's perfect holiday weather, sunny but with fair weather cummulus and a bit of a breeze to stop it getting too hot. A Whitethroat sings from the bushes near the long-disused station platform and a Kestrel hovers over the long grass of the slope above. The irregular profile of this headland is due to the mining of Jurassic shales, from which, through a complex process carried out on site, alum was extracted. Alum is a salt used in tanning and in dying cloth.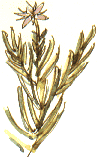 One of the Sea Spurreys, a five-petalled pinkish-lilac flower, grows on wet ground behind the sea defenses at the foot of a boulder clay slope. It has cylindrical succulent leaves.
The white, golf ball-size floret of another seaside flower that grows in drier conditions nearby looks to me like the white form of Red Valerian.


Sea Plantain has yellow anthers on its greenish flower spikes, which is appropriate, since it is in the same family as the banana.
At the roadside Mallow is now in flower.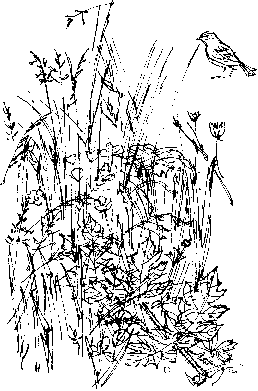 As my holiday reading I've brought the Collins Guide to Grasses, Sedges, Rushes and Ferns. I enjoy it more than the rather unconvincing medieval detective story that I opted for last year. My reading glasses come in handy as I sit on a sun lounger in the cottage garden taking a close look at Giant Fescue. One of its distguishing features is the red-purple 'knee' joints on the stem.
One of the main things to look for in a grass is the ligule. Gently pull back a leaf from the stem and look inside the joint. In the Giant Fescue these aren't much to look at, but in Wood Millet, the smaller grass I've sketched growing alongside, they are long and pointed, like a pen nib.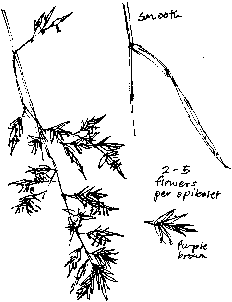 Richard Bell,
wildlife illustrator
E-mail; 'richard@daelnet.co.uk'
Next day