Summer Evening
Wild West Yorkshire nature diary, Monday 28th June 1999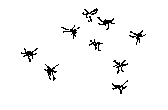 THE AIR IS CLEAR after the shower of rain. The clouds are high, varied in shape and side-lit by the low pink gold sun. Midges dance (sorry I haven't caught the swirling elegance of the dance, my animated midges are break-dancing, please bear with me, my animations can only improve).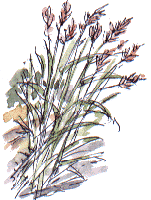 There's a soft light over bracken and tall towpath grasses. The canal is glassy smooth. Although the still air is moist it smells fresh after the shower. A wisp of the aniseed scent of Sweet Cicely hangs in the air and there's a mousy smell from Hemlock or the last of the Elder blossoms.

A Greenfinch wheezes, a Yellowhammer trots out its song. Brown cows and their calves stand peacefully by the hawthorns of the pasture on the opposite bank.
The whole atmosphere remind me of late summer evenings on Speyside, so far north that dusk progresses imperceptably.
We stand at the Figure of Three locks and watch as the sunset intensifies the colour on the cloud edges briefly, like someone stirring the ashes of a fire.

As I write the full moon shines through a veil of cloud, like a light seen through frosted glass.
Richard Bell,
wildlife illustrator
E-mail; 'richard@daelnet.co.uk'




Next day
Previous day
Nature Diary
Wild West Yorkshire home page