The Dog and Duck
Friday 17th March 2000





Nature Diary
Rocks
History
Gallery
Links
Home Page

PEOPLE have asked us 'Don't you have a dog? We thought you'd have one. What a shame when you live right next to the woods.'

Some people seem to think that you're not allowed to visit the countryside unless you've got the excuse of taking a dog for a walk. Don't get me wrong, I like dogs. My father always kept a gundog;
Tip, the black labrador, was a wild character who eventually got run-over while chasing another dog

Rinti, our next dog, was a golden labrador with a gentle temperament. He was much more a family pet, but he didn't like getting his feet wet. When my father was out shooting, if they came to a stream, Rinti would head back to the car, however much my father called and whistled to him. This was embarrassing, because the other rough, tough dogs on the shoot would be splashing about with enthusiasm.

Vache a liver and white springer spaniel, was intelligent with big feet that soon got muddy and ears that collected burrs as he delved through the undergrowth. If we were ever to have to have a dog, I think it would have to be a spaniel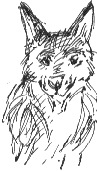 What I like about walking in the country with a dog is the opportunity it gives me to imagine the world seen through its eyes (and to imagine the world of scents revealed to its nose). Dogs find trails and signs and paths through the undergrowth that are full of interest to them, but mean nothing to me.

What I don't like about walking with the average dog is the constant worry about what it is going to get up to next.

This afternoon we were followed on our short walk through the woods by Kim, the dog who thinks he's a duck. He'd already enjoyed diving in a deeper part of the stream created by children who had made a makeshift dam. He's built like an old seadog, like a keg of rum on slightly bowed-legs. Still wet, he was galloping along in front of us, then back to his owner, behind us, as we negotiated a steep narrow path. After he'd done this a couple of times we stood back to let his owner get past us.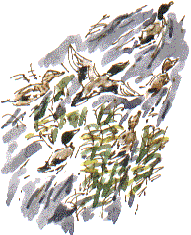 Next he was swimming in the dam. The ducks were looking puzzled rather than alarmed. He dog-paddled in circles between the islands, like a keep-fit enthusiast determined to swim his quota of lengths, oblivious to the calls of his owner.
As we left the wood we could still hear her shouts echoing through the valley;
'Kim! Kim! Right, I'm going now Kim, goodbye Kim!
'KIM! KIM! I'M GO - ING . . .'
No, much as I like dogs, I love the peace of being alone with nature.


Richard Bell,
wildlife illustrator
E-mail; 'richard@daelnet.co.uk'

Next day
Previous day
Nature Diary
Wild West Yorkshire home page