White-cap
Sunday 19th March 2000





Nature Diary
Rocks
History
Gallery
Links
Home Page


TWO ROBINS sing near the foot of Deadman's Lane, a third, which isn't singing, perches nearby. It has a white cap. It is such a neat, defined marking that at first glance I wonder if it going to be a different species, but its plumage is otherwise normal.

An odd record alongside the Greenfinches and Goldfinches in the park; we see a single Redwing. You'd normally see redwings in a flock.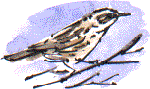 Horse Chestnut buds are opening.
'The water quality is very good,' explains the angler, as he gently unhooks an 8 or 9 inch Roach, 'it just looks bad.'

The roach certainly looks healthy, it has bright clear eyes, sparkling scales, orange fins and not a sign of damage or disease.

On a motorway journey from the southbound M1 to the westbound M62 we dip into a deep cutting through sandstone that goes, via a tunnel under the original junction. There were once big sandstone quarries nearby, between Thorpe and Robin Hood. The Thornhill Rock was quarried here for building stone.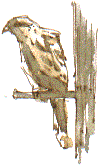 A Kestrel hovers above the motorways verge.

A Comma butterfly rests, sun-bathing on a tee-shirt hanging on the washing line. It's in good condition, although the scalloped edges of the wings of this species help improve its resemblance to a dead leaf when it closes its wings.


Richard Bell,
wildlife illustrator
E-mail; 'richard@daelnet.co.uk'

Next day
Previous day
Nature Diary
Wild West Yorkshire home page