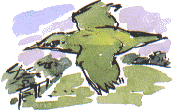 When the Green Woods Laugh
Tuesday 21st March 2000





Nature Diary
Rocks
History
Gallery
Links
Home Page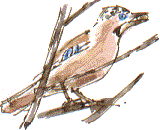 WE'RE UP and walking through the woods at 7 a.m. This is early for us, but yesterday I left my gloves on a log by the stream at the top end of the valley. They're right there where I left them, covered in dew.

The middle section of the valley, Stoney Cliffe Wood (managed by the Yorkshire Wildlife Trust as a nature reserve) seems the favourite habitat for woodland birds. A Treecreeper flits from trunk to trunk just ahead of us. Two Green Woodpeckers call - one from the slope, one from near the stream. Their 'Yaffle' call has been described as sounding like 'an idiot laughing'. Like the drumming of the Great Spotted, it echoes through the valley.
We don't catch sight of a green woodpecker, but a Jay adds a flash of colour to the scene - and an argumentative screech or two against the demented laughter.
The tranquil songs of Robins and Mistle Thrushes offer more of the calm that you'd expect from an early morning walk through the woods. It's like going from Punk to New Age.


The Long-tailed Tit has added a few wisps of pale green lichen to the cup of its nest. I think these are the young spring growth of a Cladonia cup-lichen. When I was a schoolboy in the 1960s, I don't remember ever seeing a long-tailed tit. I probably never saw one until my summer student stints as an osprey warden at Loch Garten. But, if they are so dependent on lichen for nesting material, it's not surprising they were scarce. There were plenty of factory chimneys at the time, plus steam trains and domestic coal fires. I feel sure that lichens, which are sensitive to air pollution, are gradually recovering as air quality, to some extent, improves.



Mallards are pairing up at the top dam. The pairs fly off and stand about on the grassy slope or amongst the oak trees in the wood. It's strange to see a duck where you might expect a pheasant.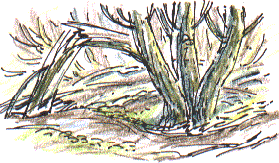 I notice that the Crack Willows growing on the bed of the long-vanished dam look different, depending which path you take down the valley. The north-facing side of each tree is well covered with moss.


Richard Bell,
wildlife illustrator
E-mail; 'richard@daelnet.co.uk'

Next day
Previous day
Nature Diary
Wild West Yorkshire home page