Ten Greenbottles
Wild West Yorkshire nature diary, Tuesday 30th March 1999


DESIGNER FLIES in a burnished viridian finish, sun themselves on a coordinating green hellebore. When one fly moves the others spring into action. I wonder if they are males waiting for passing females. Opening the loft hatch I stir a green Lacewing from its winter inactivity.



By the canal the first Small Tortoishell and the first Peacock fly erraticly, pausing on the ground, wings fully spread, to soak up the sun for a few moments.



The first Chiff chaff sings its monotonous song, it doesn't seem long since they last returned. It is just a week since we saw Fieldfares, winter migrants, nearby. In the roadside hedgerows the white flowers of Lesser Stitchwort are out since a week ago. Oxford Ragwort is back in flower. On the wooded island by the ruin of Thornhill Hall there are a couple of drifts of Wood Anemone.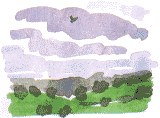 A Skylark sings above spring pastures and a peppering of oilseed rape flowers. Rough ploughland is harrowed, broken up and raked in one pass by a cunningly kitted out tractor. I'd soon get the garden into shape with one of those.
Richard Bell,
wildlife illustrator
E-mail;'richard@daelnet.co.uk'




Next day
Previous day
Nature Diary
Wild West Yorkshire home page