Coastal Path
Sunday 7th May 2000





Nature Diary
Rocks
History
Workshop
Links
Home Page



IMAGINING that I can hear loose pound coins jangling and I put my hand to my pocket to check. But, no, it's call of the Stonechat. The male has a burnt orange breast and a neat black head with white side-flashes. At regular intervals on the wilder stretches of the coastal path they perch on the Gorse bushes, making the pebble-clacking calls that give them their name.

I can walk for stretches of a mile or more without meeting anyone. But then the approach to popular areas is marked by a garland of crisp packets and plastic bottles.
Broom is in flower, and, like the gorse, it is also growing low and compact because it has been wind-pruned. Another member of the Peaflower family, Kidney Vetch, or Lady's Fingers, which has round heads of lemon-yellow flowers, grows on the turf at the edge of the path.
The spikes of of Sea Plantain are ringed with pale yellow stamens. The leaves are long and narrow.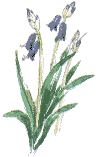 Between the open cliff tops, the path dips down into woodland in sheltered havens where the hyacinth scent of Bluebells hangs in the air.
I'm in luck today, the tide is on its way out and by the time I arrive at Sandy Haven the stepping stones and footbridge are passable.
There's a haze over Milford Haven. After the effort of my walk in the sun, I sit under an parasol and enjoy a cool drink. One of the waitresses is leaving her job at this harbourside café today. Her workmates surprise her and empty two buckets of water over her . . . which must be quite pleasant on a day like this.


Richard Bell,
wildlife illustrator
E-mail; 'richard@daelnet.co.uk'

Next day
Previous day
Nature Diary
Wild West Yorkshire home page