Evening Song
Saturday 13th May 2000





Nature Diary
Rocks
History
Workshop
Links
Home Page


HAWTHORN is in blossom, transforming the old quarry on Quarry Hill, Horbury.

It's good to have the chance to eat outside again on an evening. A Kestrel flies overhead, the pointed wings immediately distinguish it from the Sparrowhawk, and, as if to confirm the identification, it starts to hover over the meadow. An old name for the kestrel was 'windhover'.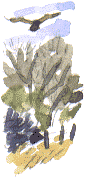 Instead of the background music you might get in a local restaurant we have the evening chorus of birdsong as a background as we drink our coffee. The woodland stretches in an arc behind the house, so we get an ambient, stereophonic background of mellow Blackbird songs, with, at the corner of the meadow, a Song Thrush improvising its eccentric series of phrases.


Richard Bell,
wildlife illustrator
E-mail; 'richard@daelnet.co.uk'

Next day
Previous day
Nature Diary
Wild West Yorkshire home page