Goldilocks and Sanicle
Monday 15th May 2000





Nature Diary
Rocks
History
Workshop
Links
Home Page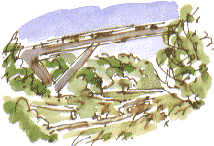 THIS AFTERNOON we visit another Yorkshire Wildlife Trust reserve, the magnesian limestone gorge of Brockadale, which you get a brief glimpse of as you cross the flyover when travelling on the A1.


In the meadow below we watch an Orange Tip butterfly flying near a group of Jack by the Hedge plants (also known as Hedge Garlic), the foodplant of its caterpillar.
Growing nearby is Lady's Mantle, Alchemilla vulgaris, looking like a smaller version of the downy-leaved Lady's Mantle, Alchemilla mollis that we grow in the garden. For a moment I think there's an orange tip resting under its leaves, but it is an orange mould growing in a patch on the underside of the leaf.

It's a hot day and the woodland comes as welcome shade. There are small drifts of Sanicle by the path and what looks like an undernourished buttercup; Goldilocks. It has only the smallest suggestion of petals - and those are uneven - around the flower.


Richard Bell,
wildlife illustrator
E-mail; 'richard@daelnet.co.uk'

Next day
Previous day
Nature Diary
Wild West Yorkshire home page