Swoop
Monday 29th May 2000





Nature Diary
Rocks
History
Workshop
Links
Home Page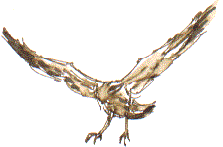 A KESTREL hovers over the meadow, then dives, legs extended, ready to catch its prey. Below it there's a clatter of wings as a Fantail takes flight from the dovecote. The kestrel checks its descent and veers away. It really looks as if it was going to attempt to make off with the dove.

It hovers high over the meadow at the entrance to the woods for a minute, then flies over the wood to try its luck at the other side.

A Skylark sings over acres of green Barley. Shower clouds roll in from the west but we get to spend most of the day, Spring Bank Holiday, outdoors.
Cow Parsley lines the lane towards Thornhill. Three Crows sit at the top of a group of Hawthorns which are still a mass of blossom. In this little valley you could feel you were deeper in the English countryside; somewhere in the Cotswolds or in the North Yorks Moors.









Pale lilac Cuckoo Flower grows amongst a mass of Buttercups in a damp meadow area in Thornhill Park.


Richard Bell,
wildlife illustrator
E-mail; 'richard@daelnet.co.uk'

Next day
Previous day
Nature Diary
Wild West Yorkshire home page