Think like a chicken
Wild West Yorkshire nature diary, Sunday 16th May 1999

ELMS SURVIVE IN BUSH FORM in hedgerows and alongside woodland edge paths, even though most of the trees were killed by Dutch Elm Disease in the 1970s. This variety of elm, in a hedge alongside the lane, strikes me as having extra large, almost rectangular leaves. They feel rough on the upper surface. The big teeth along the margins have smaller teeth along their edges. A Whitethroat sings from the hedge nearby.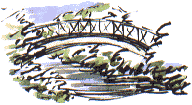 A farm's canal bridge, surrounded by blossoming Hawthorn, looks like a Monet in the afternoon sun. The light reveals every detail of the canal-side view and picks out the local colour of the landscape. Tall umbels of Hedge Parsley fill the foreground, back by the snowy May (hawthorn) blossom. The perfection of scene and lighting puts me in mind of a colour slide. It reminds me of the style of photograph used in a colour partwork, The Living Countryside, which I subscribed to in the 1980s.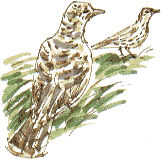 Two Mistle Thrush young follow an adult in a valley side pasture. 'White tail' the Blackbird and his mate are busy feeding nestlings in our garden hawthorn hedge. The Robins appears to have about four young, both adults now are feeding them.

A white Bantam hen has laid away and disappeared. We can't find her in the overgrown fringes of our garden. Jim finds her close to home, on top of the dog pen, nesting behind a pile of wood.
'How on earth did you find her there?'
'Oh, you have to think like a chicken!'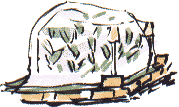 I transplant French Beans, that I've started in the greenhouse, in the deep bed that the slugs trashed a month or so ago. This time the twelve inch high plants stand a chance. But, as I take them out of the protection of the (unheated) propagator in the greenhouse, I find a large spotted slug curled up on one of the pots.
Richard Bell,
wildlife illustrator
E-mail; 'richard@daelnet.co.uk'




Next day
Previous day
Nature Diary
Wild West Yorkshire home page