Ledsham Vale
Wild West Yorkshire nature diary, Monday 24th May 1999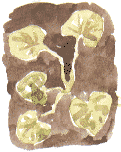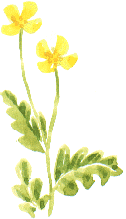 ON ONE SIDE of the tree-lined track leading to the meadow, Lesser Celandine has faded to a patch of dried up heart-shaped leaves, but, on the other side, Greater Celandine is in flower. Although it has large yellow petals it isn't a buttercup family like its namesake, it's actually a member of the poppy family.
Buttercups, speedwell and Daisies give the lower slope of the meadow a striking colour scheme, but to really appreciate the diversity you have to get down to ground level. One doormat-sized patch of turf may have eight different wild flower species.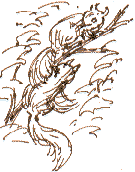 High in a Sycamore one Grey Squirrel chases another, with a great deal of petulant squawking. With binoculars I see the chasing squirrel actually swing, Tarzan style, from the other's tail!

Wall Browns, Orange Tips and a small blue butterfly which might have been a Common Blue are on the wing as soon as the sun comes out.
Mouse-ear, a hairy relative of chickweed, is widespread in the meadow and, looking closely, we also come across the diminutive Milkwort. This particular plant has white flowers, but they can be mauve, pink or blue.


The more you look, the more you realise that the meadow isn't a uniform carpet of turf. It's made up of patchwork of distinct habitats. The foot of the slope grades into woodland with Bluebells, Wild Arum and Lesser Celandine. Bare earth, where scrub has been cleared, has been colonised by burdock and Cinquefoil, neither of them are in flower as yet.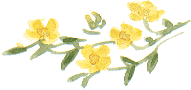 The top of the slope is drier, more like chalk downland. Here Rockrose spreads over a small outcrop of Magnesian Limestone.
Ledsham Vale lies immediately to the east of Ledsham village, north of Castleford. A public footpath runs the length of the Vale, along the top of the slope. It is managed by English Nature.
Richard Bell,
wildlife illustrator
E-mail; 'richard@daelnet.co.uk'




Next day
Previous day
Nature Diary
Wild West Yorkshire home page