---

Sunken Lane




Wild West Yorkshire Nature Diary,
Thursday 21st October 1999
---
Nature Diary
Rocks
History
Gallery
Links
Home Page
---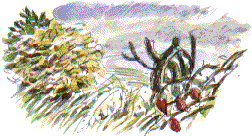 FINE RAIN hangs like a mist. Overhead power lines crackle. Hillsides merge into low cloud.

The atmosphere, the sunken lane, the mysterious landscape glimpsed over the hedgebank, remind me of Dartmoor.




Redwings and Blackbirds have gathered in the canal-side hawthorns. A Kingfisher skimming a few inches above the water, like a hovercraft, brings a welcome flash of bright colour.


Richard Bell,
wildlife illustrator
E-mail; 'richard@daelnet.co.uk'
---
Next day
Previous day
Nature Diary
Wild West Yorkshire home page

---