---

Last Rose




Wild West Yorkshire Nature Diary,
Saturday 30th October 1999
---
Nature Diary
Rocks
History
Gallery
Links
Home Page
---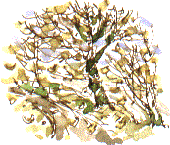 DRIFTING LEAVES animate the spaces between the trees. Walking towards them and through them is like looking up the down escaltor - you get a feeling of moving onwards and upwards.

With flocks of birds swirling over the hedgerows it is an animated afternoon. With all this movement in the air it is as if everything is moving on, from one season to the next. British Summertime ends today.

A Dog Rose bush at the top end of the lane is covered with ripe red hips, but there's one fresh, perfect rose still in flower on it.
Two Pheasants grockle at each other as they carve up the woodland edge territory. It is a stereophonic contest;

'Grock!' . . . . . . . . . .'Grock'
'Grock!' . . . . . . . . . .'Grock'
Redwings have entirely stripped one Hawthorn of its berries, while another is still dark crimson with haws.
The Charolais herd has gone from the hillslope pasture. We'll miss them.

A Black-headed Gull chases a larger Herring Gull, while a Magpie dog fights with a Sparrowhawk.

On the surface of the canal the yellow leaves that have fallen from the Silver Birch have been arranged by the wind into swags, like some flower festival. A Larch that overhangs the water has produced a diagonal line of needles stretching across the canal.


Richard Bell,
wildlife illustrator
E-mail; 'richard@daelnet.co.uk'
---
Next day
Previous day
Nature Diary
Wild West Yorkshire home page

---