Barbican and Gateway
Tour of Pontefract Castle, part 1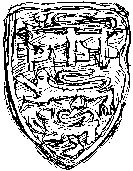 THE ARMS OF THE HOUSE OF LANCASTER are built into the wall of the house which stands opposite the modern entrance to the castle grounds. This section of the right of way known as the Castle Chain was once the Barbican, a strongly fortified outer gateway to the castle.
Thomas of Lancaster (1278-1322) was beheaded at Pontefract six days after his defeat at the Battle of Boroughbridge. Edward II's execution of 20 of the leading rebels was shocking even by the brutal standards of the day. Held prisoner in his own castle, Thomas was sentenced to public execution by the king himself. Thomas became a cult figure for a short while, an unlikely candidate for sainthood. His tomb at Pontefract Priory became a shrine.
Robin Hood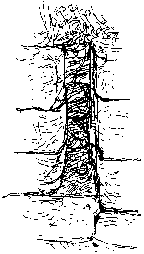 Meanwhile one of the men that Thomas called to arms, Robert Hode of Wakefield, was apparently punished for his part in the rebellion by having his house and possessions confiscated. For a while he lived as an outlaw. He is often put forward as a real life original for the Robin Hood legend. In the oldest versions of the ballads the action takes place in Wakefield and the Forest of Barnsdale (east of Pontefract) rather than in Nottingham and Sherwood.

The portcullis groove (right) is carved in the stonework of what was a narrow gateway between the inner and outer bailey.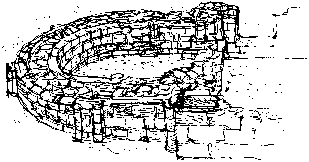 In digging the foundations for the Norman Chapel the builders disturbed the graves of a Saxon cemetery which had covered much of the site.
Richard Bell,
wildlife illustrator
E-mail; 'richard@daelnet.co.uk'


Continue tour
Wild West Yorkshire home page