---



Harvestman

Friday 3rd September 1999
---
Nature Diary
Rocks
History
Gallery
Links
Home Page
---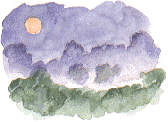 THE MORNING MIST soon burns away and it turns into another hot day.

A toadstool that has pores rather than gills grows from a mossy bank in the wood. From the yellowish gills and reddish stem I guess that it is Xerocomus rubellus or Boletus versicolor.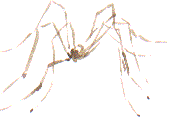 A ground beetle scurries across the path like an ingenious clockwork toy. The Harvestman, which found its way indoors the other evening seemed less in control of its legs. There appear to be ten of them, but the first pair are actually sensory limbs, the pedipalps. The other difference is the body, which in the harvestman appears to be all in one segment, while the spider has two segments joined by a narrow waist.


Richard Bell,
wildlife illustrator
E-mail; 'richard@daelnet.co.uk'
---
Next day
Previous day
Nature Diary
Wild West Yorkshire home page

---