---






Streetwise Squirrel
Sunday 26th September 1999
---
Nature Diary
Rocks
History
Gallery
Links
Home Page
---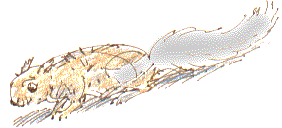 A GREY SQUIRREL pays no attention to us as it stops in the middle of the road to nibble a conker. It runs across the pavement in front of us, shins a short way up a telegraph pole and leaps onto a garden wall. It has a mangy look to it and appears to be in moult. Overall it is has a gingery cast, but by its tail there are twin flashes of grey, which I assume is its winter coat beginning to come through.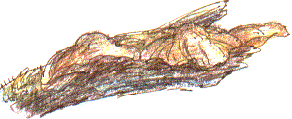 A mossy Elder by the woodland path has sprouted a new crop of Ear Fungus. It is soft and rubbery, described by Roger Phillips as 'edible'. In America it grows on a variety of trees, but in Britain it is almost entirely restricted to elder, although I once photographed some on the stump of an old telegraph pole.
It has a more reddish cast than I've shown in the sketch.
The fungus is also known as Jew's Ear;
'So unlucky is the elder,' writes Robert Graves in The White Goddess, 'that in Langland's Piers Plowman, Judas is made to hang himself on an elder tree.'


Richard Bell,
wildlife illustrator
E-mail; 'richard@daelnet.co.uk'
---
Next page
Previous day
Nature Diary
Wild West Yorkshire home page

---