Kestrel and Squirrel

Thursday, 8th November 2001, West Yorkshire






This Month Rocks History Workshop Links Home Page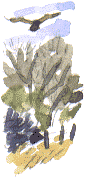 A KESTREL dips down behind the wood, like a stone falling from the sky. Whatever it was after must have got away because, before it's had time to touch the ground, the kestrel is back above the level of the treetops, hovering over the field.

The Grey Squirrel makes repeated raids, hauling the fat ball up onto the bird table, but it doesn't succeed in nibbling through the string, as it has done previously, because we've twisted a wire bag tie in to reinforce it.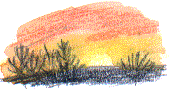 Now that we've turned the clocks back, it's sunset by the time I make my regular trip to the post office. There's a cold wind. Bare branches stand out in wintry silhouette against a clear sky.



Richard Bell,
wildlife illustrator
E-mail; 'richard@willowisland.co.uk'

Next page Previous page This day last year This month Nature Diary Home Page