The towpath is getting a trim: a group of volunteers are making their way along the canal bank below the Figure of Three locks, cutting off the fringe of overhanging bramble and grasses as if they were trimming the edge of a lawn on a large scale. They've got a one-third size narrowboat to take away the trimmings.
It looks a lot neater and it's a job that has to be done sometime but the wrens will miss that tangle of vegetation. I've often seen them popping in and out of it.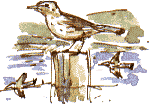 There are flocks of redwings and fieldfares about in the bushes alongside the marshalling yards.

Richard Bell, richard@willowisland.co.uk