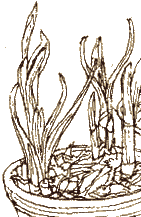 Crocuses (right) and tête-a-tête and paper-white daffodils stretch and unfurl like green flames; a preview of spring growth on our kitchen windowsill.
The small pots from the supermarket look better with their big colourful labels removed. The larger pot was a kit we were given at Christmas which Barbara made a point of planting up during the holidays. We haven't had to wait long to see results; I think they should flower during the next week.

The crocuses are mostly covered in onion-skin-like sheaths: they look like group of Red Indian Braves at a pow-wow, or perhaps like a group of tall, thin wigwams.

Richard Bell, richard@willowisland.co.uk