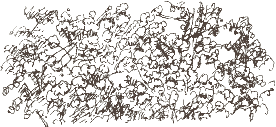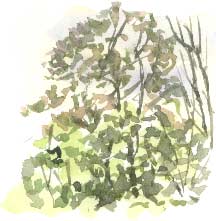 I'M SURE that one year I'll have a May when I'll spend the whole month out drawing may blossom, wild flowers, butterflies and birds but this won't be it. We're off on holiday next week so we've got lots of book orders to get up to date before we go, not to mention all the effort that goes into getting veg beds and flower borders planted up at this time of year.
However, here are a couple of drawings of may blossom (hawthorn blossom) drawn from my mother-in-law's kitchen.


Chimneys, Boon's
I'm looking forward to the holiday because, if I feel I'd like to, I'll have the leisure to stop and draw. This week one of the rare chances I get to draw for 15 minutes or so is when I'm waiting in the barber's on Queen Street, Horbury; these are the chimney's of Boons, which I still think of as the Woolpack.
I prefer the old name but I guess pubs have to reinvent themselves with a spot of marketing. Although I spend hardly any time in them I'm sorry when they suddenly get boarded up, like two of the three pubs in South Ossett; the Crown and the Wash House, formerly the Queen Victoria (so the change of name didn't help much there), or, worse, demolished like the Beehive in Gawthorpe. They're part of the life of the town.
Horbury is mainly a Victorian village/town but with medieval, Tudor, Stuart and Georgian buildings still surviving but its centrepiece and - especially now the Town Hall is just office space - the heart of the community, is the Georgian St Peter's Church (right).

Celebrating the Bi-Centenary
It's 200 years since the death of Horbury born architect John Carr (1723-1807) and the church, built at a cost of about £8,000 (bells and organ a further £2,000) was his gift to his home town. The ornate gilded columns might seem out of place in the centre of a down-to-earth town like Horbury but when the church was filled with nearly 300 people, for the opening talk on a sunny afternoon last weekend the place really comes to life and works just as Carr intended it should. He was twice Lord Mayor of York and had an understanding of buildings as settings for social events.
His drawing instruments, in a small case covered in shark's skin, have been on display with some of his designs this week.
Richard Knowles (right) – of Wakefield Historical Society, who runs the town's bookshop - introduced this evening's concert.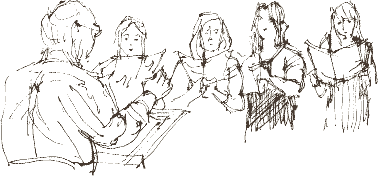 Grace-Notes
Sally Dover (right) opened the concert with short pieces by Bach, Faure and Saint-Saens. Her final piece in the opening set, Chopin's Variations on a Theme of Rossini, is the kind of music you can't help smiling to. At the end of it there's an effect I hadn't noticed before where a lively tune has a lower accompaniment to it. If she had been playing in an orchestra, I'd have assumed that there was a second flute somewhere, playing the lower notes.

I expect it's possible to get the flute to resonate at two frequencies at once? Grace-notes are the embellishments to a tune played on the bagpipes; perhaps this was the flautist's equivalent.
The University of Huddersfield Chamber Choir sang madrigals from 16th and 17th century, some of which were still performed, in a domestic setting, in Carr's day, and rounded the evening off with some 20th century choral music which worked well in the clear, resonant (but not slushy) acoustic of the Georgian church. The final piece was London Town which in fact has a Wakefield connection; the composer Kenneth Leighton (1929 – 1988), later a professor of music in Edinburgh, was born in the city.

Georgian Diaries
The music was interspersed with readings; Katherine Bannister (right) read from the diaries of Carr's young nieces, Harriet and Amelia Clarke who toured Yorkshire with him and attended the opening of the church in 1794 and Father Peter Twisleton, soon to leave the parish after 9 years at the church read from the diary of Parson James Woodforde, the 'most agreeable of diarists'.