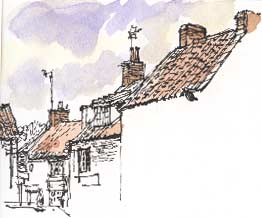 AS THIS IS A HOLIDAY - and I mean a real holiday, not a sketching trip - I've pared down my drawing kit to what will comfortably fit in my bumbag. The drawing of Helmsley (left), where we stopped for lunch, is in dip pen and Nan King Indian ink, while Whitby (below), from car park down by the harbour, is in Stædtler mars professional; a fibre-tipped permanent pigment pen which I've got in three nib thicknesses ranging from 0.18 mm to 0.7.
I haven't used these for a while as there were similar pens, such as the Sakura, that I wanted to try but I've rejuvenated them by putting in refills. When any fibre tip starts to run dry I tend to lose interest in it so the holiday has been a good excuse to get them ready for action again.
The colour is Winsor & Newton artists watercolour from the tiny box of ten half pans that I habitually keep with me.




Barbara and I take walk from Rambling Rose cottage, Raithwaite Hall, down into a little valley where the wild garlic by the stream is at its freshest, up via a clearing where we disturb a roe deer to farmland then down to Sandsend and back along the seafront road.
Flowers in the grounds of the hall include bluebell, cuckoo flower, crosswort (right), self-heal, bugle and violets.