Return to the Fold
Richard Bell's nature diary, Cumbria & North Yorkshire, Friday, 10th October 2008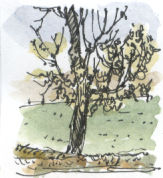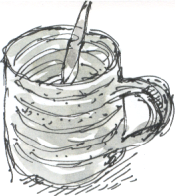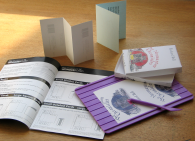 A COFFEE STOP at Rheged, the visitor centre disguised as a craggy mound near the Penrith junction of the M6. It's good to have a chance to take a look at the art, book and craft shops here to see what's new and to pick up ideas and inspiration.
Wonderboard
For instance, in the Paper Shop we came across what Dovecraft modestly market as their 'Wonderboard', a device for making perfect folds in card. Turn it over and there are grooves for making various sized boxes and their lids; I practiced on a reject cover of my Normanton Chronicles sketchbook (left). We should be able to think of a different idea for a Christmas card.
Autumnal-looking horse chestnut, drawn at our lunch-stop at Country Harvest, Ingleton.
Bad Point
If you're folding A4 card, one of the main things I use it for, you'll find that the A5 slot is 2mm out. I've come up with a
simple fix
for this which is to trim a
strip of mounting card
to ½ inch (13 mm) wide and use it to extend the fence on the reverse (box base) side of the board and score using the widest slot. For me that's spot on, it's just a bit more fiddly lining it up than with the regular fence.
Dovecraft tell me: This issue has affected a small number of the Wonderboards in circulation, and we apologise that you have received a faulty product.
Dovecraft are committed to producing the highest quality crafting products, and would advise you on this occasion to take the Wonderboard back to your retailer who will be able to offer a full refund.