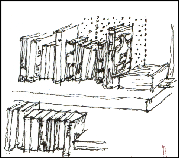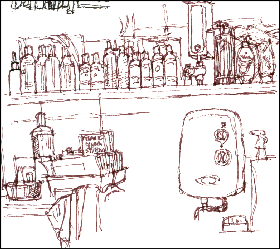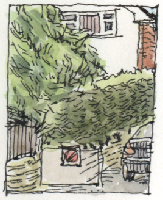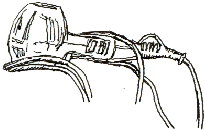 I CAN'T COMPLAIN that I've been waiting long this week but at least, as I had my sketchbook, fibre tip pens, pocket watercolours and Pentel Aquash water-brush with me, I was able to put those 10 or 15 minute slots to good use.
Looking at the mugshot on my home page, I'm sure you're asking 'how does he achieve that natural, windswept, just emerged from the undergrowth look?' I guess I ought to let you in on my secret: Wendy, who runs Unit 9 Hair Design in Ossett where Barbara and I get our hair cut, recommends organic hair products, which she features on her web site: www.naturalhairproducts.co.uk
She's been asked to do a demonstration at a hair event at a midlands city art gallery. Alongside the specially commissioned hair-inspired works of art, they're intending to have a traditional barber and an Afro-Caribbean stylist at a special family activities event in the gallery with Wendy there to demonstrate the gentler, natural approach to hair care.
Perhaps she could use me as a model!
A visit to the hair-dresser's also gave me an opportunity to draw (right), while the book-shelf was in a bargain bookshop/coffee shop in a local garden centre. A tempting combination for Barbara and I!