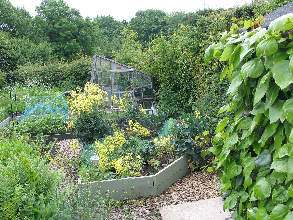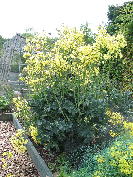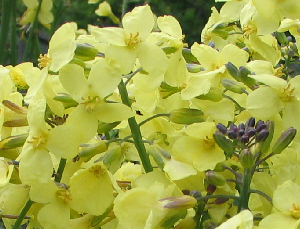 THE FORECAST is good for today, rainy for tomorrow and Monday so, now that May with it's occasional overnight frosts is drawing to an end, it's an ideal time to clear the brassica bed and plant out our remaining bean and courgette plants.
I constructed this D-shaped raised bed in spring last year in a spot where we'd had some shrubs growing. By the time I'd finished the season was well underway so to fill the space we bought a tray each of seedlings of purple sprouting broccoli - Claret, an F1 hybrid - and Brussels sprouts. It seemed a long wait to get anything from the broccoli as the harvest period is March to June.
As you can see, the remaining spears have now all flowered.
At that time we had a wild rabbit at large in the garden and, in a hasty measure to cover the crop, I threw netting over the bed. That's why the plants sprawled over the bed and across the path.
It was great, at a time of year when other vegetables are in short supply, to go down the garden and get fresh spears of broccoli. They worked well in stir-fries or steamed. Even towards the end, when the budding flower-heads weren't as compact as they had been, they made excellent soup.
Our previous attempt at growing broccoli had been with the green sprouting variety. This must have been in the summer season because when we harvested the heads we found lots of cabbage white caterpillars hiding amongst the flower-buds. By growing this purple sprouting variety which is harvested earlier we avoided the attentions of the cabbage white butterfly.
previous | this month | home page | next
The D-shaped bed. The ivy-clad object in the foreground is our garden shed.
Purple sprouting broccoli, Claret F1 hybrid. You eat the close-packed purple buds earlier in the spring.