More Left Hand Studies
Richard Bell's Wild West Yorkshire nature diary Thursday, 3rd July 2008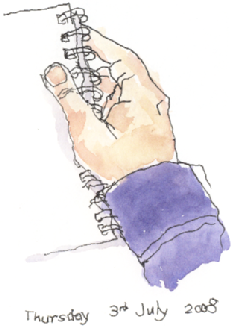 I'M FASCINATED by the process of learning to draw with my left hand. It's like going back to childhood and learning the basics again.
It's been said that in drawing the process of observation (or imagination) is more important than an individual's manual dexterity.
But I've got complacent in the control of movement I have in my right hand so it's refreshing to start back at square one again and not to have my armoury of well-rehearsed movements to fall back on. These were drawn with a Staedtler pigment liner 0.5 fibre tip which I found I had to hold almost upright to make a mark, so I didn't even have the steadying influence of having my left hand in resting in close contact with the sketchbook page.
Drawn as I waited for a haircut.