Bargain Corner
Richard Bell's Wild West Yorkshire nature diary, Monday, 22nd September 2008, page 1 of 2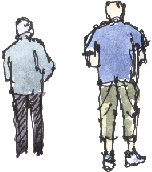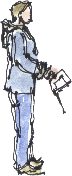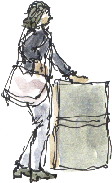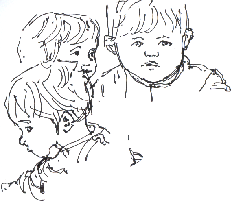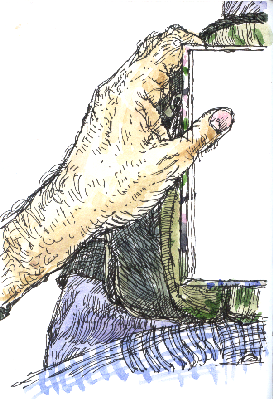 I'VE SPENT more time walking - checking out routes for my new book - than I have drawing recently so I took the opportunity to run on ahead of Barbara and her mum at Ikea this morning to find a comfortable seat on an enormous slouchy sofa in 'bargain corner' where I drew shoppers at the checkout.
Yesterday we had a break from walking as we'd been invited to a christening and a wedding celebration on the same day. Luckily they dovetailed perfectly.
I might have done more drawings but the buffets at both events were irresistible so I kept going back to try the things I'd missed first time.
I liked the homemade cider at the first event; our neighbours, who were celebrating their baby son's christening (above, right), have a an apple tree that is prolific but unfortunately the russet fruits don't last much more than a week. Julian had made a refreshing fairly sweet cider from the windfalls which, surprisingly, was improved by the addition of a shot of his sloe gin; a sweet-and-sour kind of combination.
Well that's about it for drawing during the last week. This sketch of that perennial subject of mine, my left hand (left), was made when I was enjoying 15 or 20 minutes respite from the continual dashing about I've been involved in, waiting for my annual podiatry check-up.
I didn't get the chance to add the colour at the time but it wasn't difficult to fit in a few more minutes back home to complete the picture.
Peter, looking a bit older than he does in real life.