Deadnettle, Spurge, Sow-thistle & Forget-me-not
Richard Bell's Wild West Yorkshire nature diary, Monday, 22nd September 2008, page 2 of 2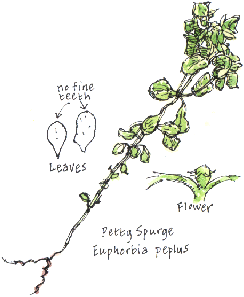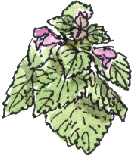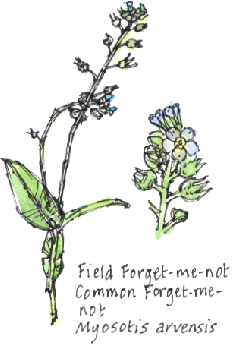 Forget-me-nots are difficult to identify. Out of the possibilities for this time of year and the garden habitat, Field Forget-me-not is the one described as having fruit stalks equal to or longer than the calyx. The leaves of the loose basal rosette are 'elliptical, broadest above the middle' while the stem leaves, shown here, are lanceolate (shaped like a spearhead).
In my garden wildlife sketchbook, Rough Patch, I include a simple recipe for stinging nettle soup but in his television series Jamie at Home, Jamie Oliver recommends red deadnettle, Lamium purpureum, as a non-stinging alternative.
In Wild Food, Ray Mears and Gordon Hillman recommend that you gather it early in the spring for use in salads, soups and omlettes. I've yet to try it.
Smooth Sow-thistle and Petty Spurge, were also growing in our three sisters raised veg bed (sweet corn, beans and courgette in our version).