The Old Wooden Track
Sunday 16th April 2000





Nature Diary
Rocks
History
Workshop
Links
Home Page



FOUR BLUE TITS - I guess that means two pairs - are in raucous dispute in our back garden, chasing and chittering at each other.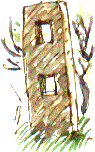 There's a row of stone fence posts alongside a field near Middlestown. I've been looking at Victorian Ordnance Survey maps and these posts seem to follow the line of a waggonway from the hamlet New Hall, near the village of Flockton. The waggons were horse-drawn and were used for transporting coal, and possibly timber. The waggonway apparently originally had wooden rails which were replaced by iron in the 1820s. This stretch of the line is shown on the map of 1841 but it had been replaced by a curve that takes in the valley of Smithy Brook by the time of the 1896 map (surveyed 1889 - 92). Local historian John Goodchild tells me that the line closed in 1893.

Our first Willow Warbler sings amongst the budding Ash blossoms. Bright green leaf buds are opening, like miniature lettuces, on the Hawthorns.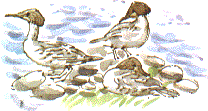 The Goosanders (just two of them) have returned to their rock island in the river rapids. Barbara first spotted them on the 16th March. Local birdwatchers speculate that, as the river becomes cleaner, goosanders might start to breed in the valley. Peter Smith, Research Officer for the Wakefield Naturalists' Society, was surprised recently to be able to see to the bottom of the River Calder as he looked down from the Wakefield bridge. This would have been impossible a few years ago.


Richard Bell,
wildlife illustrator
E-mail; 'richard@daelnet.co.uk'

Next day
Previous day
Nature Diary
Wild West Yorkshire home page