The Swillington Story
Monday 17th April 2000





Nature Diary
Rocks
History
Workshop
Links
Home Page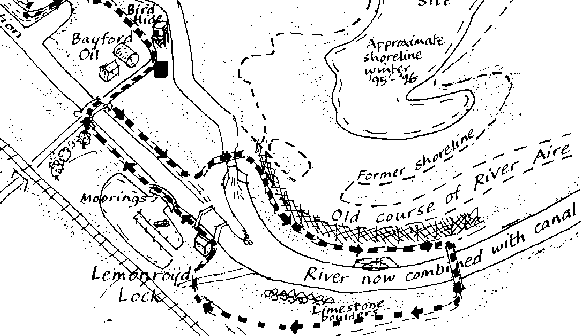 HERE'S A SKETCH MAP I made in 1996 of what is variously known as the Swillington site or St Aidan's opencast mine which is adjacent to the River Aire a few miles east of Leeds, near Woodlesford.

In the early 1990s a large opencast coal mine was flooded when the banks of the river gave way. Not only did water flowing down the river flow in but, as far downstream as Castleford the river reversed direction and flowed back, upstream, into the hole. Chinook helicopters were brought in to drop sandbags in the breach, but to no avail. As luck would have it the huge excavating crane wasn't positioned at the bottom of the hole at the time, otherwise, being so slow-moving, it would have become a piece of underwater archaeology.

After a great deal of discussion and a special Act of Parliament the river and canal have been diverted. The hole has been pumped out, the coal dug out and, today, it looks as if the process of landscaping is underway for the part of the site nearest the river. In a few years we might have a wetland reserve here that will rival Minsmere (or will we get the usual watersports park?).

Today there is a pair of Great Crested Grebes just below Lemonroyd Lock. There are Tufted Ducks, especially on the quieter stretches upstream and, of course, Mallard. Two Swallows, the first I've seen this year, fly around the footbridge. A few Reed Buntings are attracted to the planted willows on the riverbanks. A Willow Warbler sings from a small tree.


Cowslips, which were probably planted as part of a wild flower seed mix, are in flower.


Richard Bell,
wildlife illustrator
E-mail; 'richard@daelnet.co.uk'

Next day
Previous day
Nature Diary
Wild West Yorkshire home page