Holly Blue
Thursday 17th August 2000, West Yorkshire





Nature Diary
Rocks
History
Workshop
Links
Home Page



NEXT DOOR'S Sunflowers are doing well. Look out of our back bedroom window and the flowerbuds are only 2 or 3 feet below the level of our windowsill.

After a couple of weeks of being preoccupied the bits and pieces involved in getting a book into print I decide it's time for a change, and I enjoy some hacking back in the garden.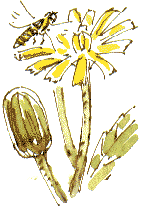 Peacock butterflies feed on the buddleia, while the Brown Hawker dragonfly hunts over the garden path, as I cut back Nipplewort and Stinging Nettles. Nipplewort is a tall weed related to dandelions and sow-thistles but, unlike them, it doesn't have milky sap.



A Holly Blue lands on the lawn next to my gardening gloves. It's a female which has a dark border to its blue upper wings. The females of the first generation in spring don't have such a wide border. The males have only a fine black line around the edges of their blue upper wings.

Alongside the more colourful butterflies there are Large Whites on the buddleia and Green-veined Whites, which seem to seek out smaller flowers.





As we take an evening walk along the towpath there's a commotion behind the Hawthorns on the opposite bank of the canal. A herd of 15 or so bullocks stampedes along the at the foot of the slope opposite.


Related Link
Butterfly Conservation dedicated to saving wild butterflies, moths and their habitats.





Richard Bell,
wildlife illustrator
E-mail; 'richard@daelnet.co.uk'

Next day
Previous day
Nature Diary
Wild West Yorkshire home page