Stinking Billy

Sunday 8th October 2000, West Yorkshire





Nature Diary Rocks History Workshop Links Home Page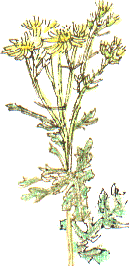 COMMON RAGWORT is one of a wild bunch of five weeds 'outlawed' by Act of Parliament (Weed Act, 1974). It contains an alkaloid poison which, in time, will destroy the liver of a horse or cow that eats it. Sheep may have some immunity, as they will eat it.

It has an unpleasant smell when crushed. Highlanders named it 'Stinking Billy' after William, Duke of Cumberland, 'Butcher Cumberland, who put down Bonnie Prince Charlie's rebellion with shocking severity after the Battle of Culloden in 1746.

The English named a garden flower, Sweet William in Cumberland's honour.

Common Ragwort, Senecio jacobaea, is typical of neglected pastures, but will also grown on roadside verges and on sand dunes.


Pennine Panorama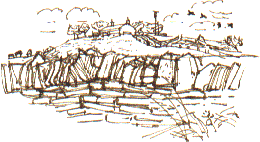 Take the Huddersfield Road from Wakefield and, after you cross the Calder and climb past the National Coal Mining Museum and on to Grange Moor the landscape changes imperceptibly and takes on more of the character of the Pennines. Panoramas of the moor tops and Castle Hill start to open up. Drystone walls start to predominate over hedges and long, low farmhouses huddle in the shelter of Sycamore windbreaks.

This little sketch was made from the comfortable shelter of the Monte Verdi restaurant at the Masons Arms at Whitley.



Richard Bell,
wildlife illustrator
E-mail; 'richard@willowisland.co.uk'

Next page Previous page This day last year Nature Diary Home Page