A Bouguet of Herbs

Friday 13th October 2000, West Yorkshire





Nature Diary Rocks History Workshop Links Home Page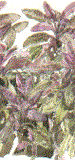 THE CLUMP of Purple Sage in the herb bed is a reminder of summer. When I brush it's leaves the, to me, slightly bitter scent reminds me holidays in Greece; of olive groves on hillsides overlooking the Aegean and dusty tracks climbing amongst the pines.



Rosemary, which grows there in rocky places, has a more resiny smell. There are still a few pale purple flowers on our Marjoram, (right) another common herb of sunny scrubby places on the Greek islands.

The taller Lemon Balm behind it is dotted with even fewer small white flowers. The smell of the leaves of the balm reminds me less of lemons and more of citronella, the insect repellant derived from a fragrant southern Asian grass (a relative of the Lemon Grass used in stir-fries), so it conjures up images of the place where I first used it; the appropriately named Myvatn, the 'Lake of the Midges' in Iceland.

Lavender too still bosts a few flowers, it's heady perfume reminds me of the smell of some kinds of traditional furniture polish and, by association, of English country houses.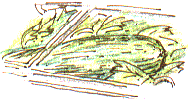 Some day I will get to grips with the vegetable beds, but at least the summer courgettes still have one or two marrow-sized fruits remaining, which I will have to cut before the first frosts start to bite. They're good for making soup.



Richard Bell,
wildlife illustrator
E-mail; 'richard@willowisland.co.uk'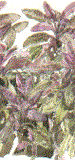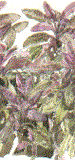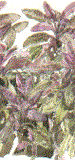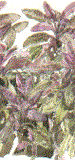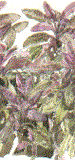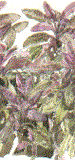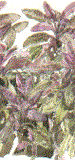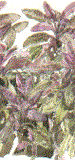 Next page Previous page This day last year Nature Diary Home Page