Pearlwort and Liverwort
Friday 4th August 2000





Nature Diary
Rocks
History
Workshop
Links
Home Page






SCRAPING OUT WEEDS between the paving slabs on the drive, I get to focus in on a miniature landscape that normally passes by unnoticed, beneath my feet. Out come Knotgrass, Broad-leaved Willowherb, Stinging Nettle and Dandelion, but I leave a tiny weed, Procumbent Pearlwort, in place. It never grows much more than a centimetre high, so it would make a good ground-cover plant, if I could get it established in the crevices. For the same reason, I leave the moss to grow.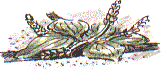 I notice that Greater Plantain, which is very resistant to trampling, has managed to get some of its seedheads lodged under its leaf down in the crevice. Is this a regular strategy for the plantain; an adaption that enables it to deliver its seeds directly to a suitable spot for germination?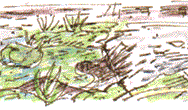 In the shadier part of the drive by the garage, a green Liverwort grows in the crevices. Tiny spore-bearing parasols have sprouted from its fleshy green lobes.




A dead Swallow lies floating on the canal. Through binoculars I can see that it has become entangled in a weighted fishing line that has become snagged on the branches of an overhanging willow. As we stand on the bridge a swallow flies beneath us, hawking low over the water for insects.





Richard Bell,
wildlife illustrator
E-mail; 'richard@daelnet.co.uk'

Next day
Previous day
Nature Diary
Wild West Yorkshire home page