---

Green Star




Wild West Yorkshire Nature Diary,
Saturday 19th February 2000
---
Nature Diary
Rocks
History
Gallery
Links
Home Page
---
ROSETTES of Foxglove cling like green starfish to a drystone wall by a rough old track.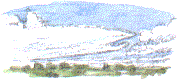 Green stars? Well, far from being a star of the green movement, for the past two months I've been a quivering jellyfish, as I explain at the foot of today's page.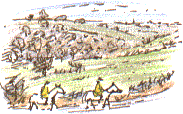 In the skies above Thornhill a long cloud takes on the shape of a shark.
A peaceful English scene, the woods and hedges of a side valley, two riders going by . . . then a muffled musical warble as the mobile phone of one the riders starts trilling.


The flower stems of Coltsfoot are pushing up at the edge of the drive. They're still in bud here, but on open ground by the canal a few are already in flower.


Red Deadnettle has been in flower for a while and today in a couple of sheltered, sunny positions, the first Dandelion heads are showing.


The oddest blossom today is a single Broom flower. There are eight bushes on Millbank and just one flower between them all.
From here there's a view up the valley, across part of Dewsbury to the Pennine moors where the wind turbines near Howarth are glinting on the horizon.
Dilemma
December 8th 1999; I haven't, as yet written it up. How can I come to terms with my experience on that day? It was the most terrifying day of my life. I feel that my human rights, my rights to participate in decisions that will affect our local environment, have been violated.

What can I tell you about it? I can't tell you the whole story because vital parts of it took place behind closed doors. In a public meeting our local councillors described what had gone at one secret meeting as 'blackmail'.

Anybody who has read a few of these pages will know that for me it's not just a job to communicate my love of the countryside and my fascination with the natural world; it's a way of life. What, then, could be easier than to go along to an enquiry to which the public are invited and speak on behalf of a local meadow, hedge and stream?

I can't go into it all now, but, as I perceived it, I was threatened with financial ruin should my input extend the enquiry.

I'm no expert in planning matters but this seems wrong to me. I feel angry, frightened and confused. Scarcely at day goes by when the events of that day don't come into my mind. Scarcely a night goes by when I don't wake and go over and over how inadequate my efforts are. I hope that I can do something to get the law changed so that others are not faced with this terrifying dilemma. I'll let you know how I get on.


Richard Bell,
wildlife illustrator
E-mail; 'richard@daelnet.co.uk'
---
Next day
Previous day
Nature Diary
Wild West Yorkshire home page

---