---

The Garden of Terrestial Delights




Wild West Yorkshire Nature Diary,
Wednesday 23rd February 2000
---
Nature Diary
Rocks
History
Gallery
Links
Home Page
---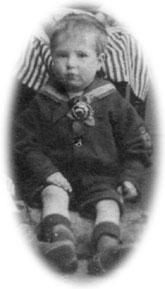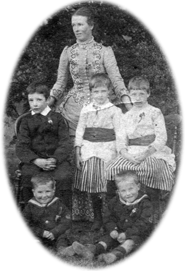 HERE'S young Herbert Charlesworth photographed by W. Johnson 'Photo Artist' of Coxley Valley, Middlestown, in about 1890. I never met Herbert, who died in 1949, but people who knew him describe him a lovely man, and I think you can gather something of his cheerful character from the photograph (right; Herbert at bottom left) with his brothers and sisters, and their nanny.

I did know his son Ernest Charlesworth, our local joiner. Ernest's widow, Trudi, has kindly lent me these photographs. Herbert's father George F. G. Charlesworth, landlord of the Ship Inn at Horbury Bridge, came up with with this amazing proposal for a Victorian style theme park in nearby Coxley Valley;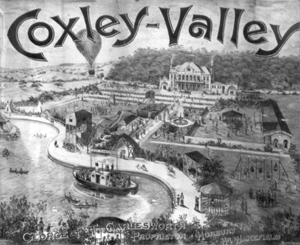 The speculative venture soon ran into problems. The big dipper, merry-go-round and dance hall were never built. I remember a tall brick house which was the right-hand wing of the pavilion, the only part of it that was ever finished. For a while there was a café here, which looked out over rose gardens and childrens' swings. On Sunday evenings a brass band played.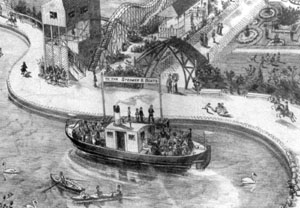 So what is left of it today? Since I'm writing a book on the valley, due out in May, I take a walk through the woods and find the spot where the promotional lithograph shows a pleasure steamer, children riding donkeys and a rickshaw racing past.
I stand with a steep wooded slope behind me, overlooking a meander of the stream. The phrases of a Song Thrush ring through the empty woods. At the top of the grassy field opposite, beyond some pheasant pens, the partially completed pavilion has gone, now replaced by a stone-built house.
Two world wars and the depression of the 1920s and 30s separate us from the George Charlesworth's vision of a Victorian pleasure garden. It reminds me of a passage from The Tempest;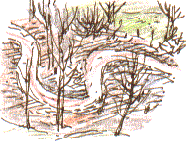 'Our revels now are ended. . .
. . melted into air, into thin air;
And, like the baseless fabric of this vision,
The cloud-capp'd towers, the gorgeous palaces,
The solemn temples, the great globe itself,
Yea, all which it inherit, shall dissolve,
And, like this insubstantial pageant faded,
Leave not a rack behind. We are such stuff
As dreams are made on; and our little life
Is rounded with a sleep.'



Richard Bell,
wildlife illustrator
E-mail; 'richard@daelnet.co.uk'
---
Next day
Previous day
Nature Diary
Wild West Yorkshire home page

---