---
Waterton Weekend

Alberta
July 1999
---
Guest Diaries
Nature Diary
Rocks
History
Gallery
Home Page
---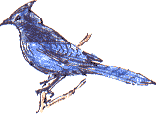 ABOUT ONCE A YEAR around the middle of July, I take a tour of the area immediately surrounding our cottage (or cabin, or camp, depending on where in Canada you live) in Waterton Lakes Park townsite, just to see what may be hiding in plain sight.
This past weekend was quiet and the weather unsettled, so I decided to do the annual walk. The wildflower department was understated but generous, by Alberta standards.
I found Northern Bedstraw, Harebell, Alpine Forget-me-not, Ragwort, Alpine Buttercup, the ubiquitous Cow Parsnip, Yarrow, Bear Grass (not in bloom), Wooly Everlasting, Thistle, a fern of indeterminate origin (gift from a neighbour), two flowers I couldn't identify, and the usual dandelions, plantain and other assorted weeds.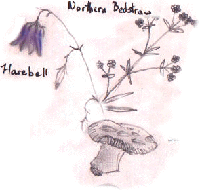 Another plant quite common around here is Bearberry or Kinnikinnick. It is an evergreen, mat-forming plant whose name originates in Eastern Canada, and whose purpose has been to contribute to a kind of tobacco mix smoked by Natives and Hudson Bay clerks . . . of some hundred or more years ago. God knows what the clerks of today smoke, if at all.
An amusing discovery involved a mushroom that had been 'sampled' by either a squirrel or a chipmunk. There were numerous bites taken out of the mushroom cap, much like a child biting all over the surface of an apple, looking for the best part.
Because the light was flat due to high cloud cover, bird watching from the back door was particularly pleasant.


A Pine Siskin made an early appearance, followed by a McGillvary's Warbler, so-named by Audubon himself. There is a family of Stellar's Jays nearby and they have mastered the delicate art of stealing peanuts my husband puts into a re-cycled Hummingbird feeder. The squirrel that has been benefiting from this arrangement is more than furious and the resulting pitch of rodent indignation in counterpoint to avian greed can be quite deafening.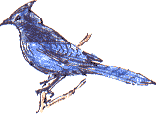 A nearby family of crows is too large to steal from the feeder, so they perform aerial recognizance at noticeably close range. Their cawing is raucous, to say the least. In fact, when my husband telephones the cottage from home to listen for unusual noises by way of the answering machine, he can hear the crows outside!
and those robins . . .
4th November 1999

When the leaves finally fell from our birch tree, I discovered a nest which I think explains why the robins abandoned their perch on our sundeck. There seemed to have been two more "families" hopping around our backyard through out the summer, and I assumed they had decided to nest close by. I didn't realize until last week that "close by" was within six feet (as the crow flies) of their former nest.

But then this has been a season of ironies. All summer I hoped to see a Mountain Chickadee in Waterton, only to hear and view the usual (but no less delightful) Black-capped Chickadee. About a week before all the leaves left our long-suffering Birch tree, there, plain as day, was a Mountain Chickadee, here in the city on the flat prairie. And he didn't seem to mind at all!