---
Coulees

Lethbridge, Alberta
January 2000
---
Guest Diaries
Nature Diary
Rocks
History
Gallery
Home Page
---
AT MIDNIGHT HERE the noise of the New Year's fireworks disturbed the Canada Geese and they took to the skies. It was too dark to see them but the undulating sound of their honking sounded like flocks on the move.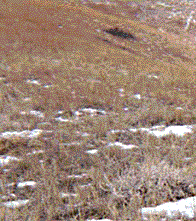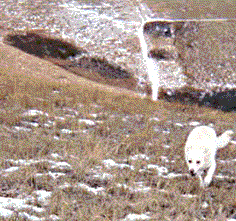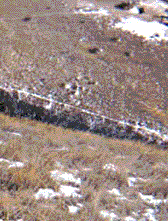 Our first outing of the new millenium is a walk westward along the top a coulee towards the river and back again through a depression referred to as the 'Sugar Bowl'. It is a favourite spot for tobogganing (when there is snow) and we often took our children here when they were younger, on New Year's Day in particular. This year they are asleep while we walk the dog.

The weather is about to change from its unseasonable warmth to more seasonal temperatures, and a darkish-blue shadow on the horizon promises to make good on this. The air is clear and cold, the grass is yellow, and our white mongrel resembles a small wolf, sniffing and marking with feral abandon.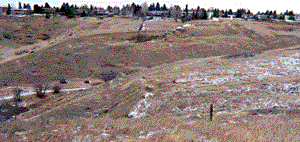 Coulees are large gullies leading from the flat plain of the city to the river below. The soil here is a clay that seems to stick to everything except itself, and urban watering along the city's edge has resulted in marked 'slumping' along the south-facing coulee slopes (sharp break in slope at centre of photograph).
Fortunately, these coulees are a community reserve, the province of joggers, cyclists, walkers, and dogs.
Of course, one often sees deer, occasionally right in the city itself. They have been known to eat the berries off the Mountain Ash tree in our front yard. Jackrabbits abound (!) here too. One Saturday a jackrabbit shot past us as we headed for the coulees, with a very young and determined German Shepherd in hot pursuit. (We did see the dog a while later, very much subdued).
Because the area behind our neighbourhood is a community reserve, and because houses have expanded right up to the edge of the coulees, pathways have been constructed for the direction and comfort of Lethbridge's residents. There are specified areas for dogs to go off-leash, etc. and areas where one may (or may not) ride mountain bikes.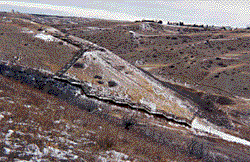 As my husband and I head back home from our stroll, we descend some wooden stairs to the bottom of a coulee. It finally dawns on me that this particular stairway descends what was once a favourite tobogganing hill of my youth. It was called, of all things, 'Monkey's Ass Hill', and it had a roll of barbed wire to one side at the bottom, and a small gully beyond that which could stop a speeding sled with uncomfortable certainty if not properly negotiated. The height of the coulee has been compromised by dirt fill brought in to cover storm sewage equipment along the bottom of the coulee, but at least all mechanics are out of site and the paved path provides easy ambulating.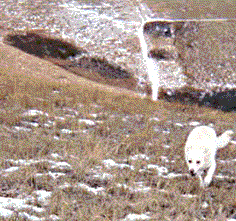 We meet a neighbour out jogging with her dog, who is, in his way, as enamoured our dog as his master's son is of our younger daughter. It's good to know that some things don't change.
P.S.Neither female is interested in the smitten male of her particular species.