---

A Walk with a Line




Wild West Yorkshire Nature Diary,
Wednesday 26th January 2000
---
Nature Diary
Rocks
History
Gallery
Links
Home Page
---

RAILWAY, river and canal run for a mile in more or less parallel lines at Healey Mills, south of Ossett. When railway marshalling yards were constructed over much of the valley floor in the early 1960s the River Calder was diverted to a straightened course.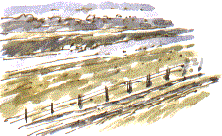 There's no access to this stretch of the river, which runs between floodbanks so that you are hardly aware of it from the footpaths. The canal towpath is hedged in anyway by Hawthorns. When I took the train to Manchester at the weekend I saw a different perspective of this familiar landscape.
A pair of Mute Swans favour this quiet stretch of the river. A rutted lane that I've never walked along, which I never realised existed, runs between the railway and river. Worth exploring? - not really; like so many of the railside tracks it soon ends in a small scrapyard.
Cutting Remarks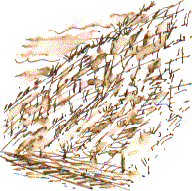 The view from the train window is so different you could almost think you were travelling through another stretch of valley. From the train the most striking feature of Horbury is a long deep cutting through a thick bed of sandstone, Addingford Cutting, which you're hardly aware of in the village itself.

The line then passes scrapyards and partially demolished mills, which don't give a hint of the historic village centre, with its Georgian church, just half a mile away. Nor does the new estate of houses, which you pass a moment later. It is built in the conventional brick and mock-Tudor style which is currently popular all over the country. It has no vestige of vernacular style or local character; you could be anywhere in the country, from Milton Keynes to Aberdeen.

In the flower bed by the lock-keepers cottage Crocus is already showing, with furled flowers like miniature yellow baseball bats.
'Taking a line for a walk' is how Paul Klee described the process of drawing.


Richard Bell,
wildlife illustrator
E-mail; 'richard@daelnet.co.uk'
---
Next day
Previous day
Nature Diary
Wild West Yorkshire home page

---