Ebbing Tide
Tuesday 27th June 2000





Nature Diary
Rocks
History
Workshop
Links
Home Page



FIELD ROSE is in white flower in the hedges. It is more of a scrambler than the, often, pink Dog Rose, which came into flower a month ago. Dog rose can stand up for itself, as a bush.



The tide goes out during the afternoon leaving mudbanks exposed along the River Esk. A single Oystercatcher probes the mud at the water's edge. A Heron stands in the shallows. These are the birds you might expect to see, but there's also a Blackbird, which hunts across the mud much as it would on a garden lawn. A grey domestic pigeon stands amongst the seaweed.

Wings over Whitby

A large immature Herring Gull stands on the mud in the harbour. An adult lands gracefully on the pavement by a fish and chip shop and takes a sideways glance under a picnic table.


We get a brief view of a Hummingbird Hawkmoth visiting petunias

in a hanging basket in the backyard of the Shepherd's Purse wholefood restaurant, but it soon zooms off over the pantiled roofs of Whitby.

A Small Tortoiseshell, the first we've seen this holiday, suns itself on a footpath.


Young Woodpeckers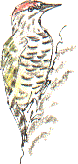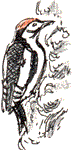 We see Goldfinch and Bullfinch in the garden, in addition to the regular woodpeckers. You certainly can't miss the juvenile Green Woodpecker, it calls - 'yaffles' - as if alarmed, then careers from the trees as if out of control. It has brown barring across its breast, while the adults are plain. The juvenile Greater Spotted Woodpecker looks much like the adults but has a red cap. Like the young green it is attracted to the apple tree which is spotted with the white downy encrustation. They peck amongst the downy white, occasionally stopping to wipe away bits that get stuck on their beaks.
Related Links
Captain Cook


Richard Bell,
wildlife illustrator
E-mail; richard@willowisland.co.uk

Next day
Previous day
Nature Diary
Wild West Yorkshire home page