Golden Horde
Monday 6th March 2000





Nature Diary
Rocks
History
Gallery
Links
Home Page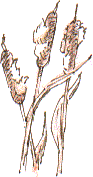 A RAILWAY walk from the A638 roundabout at Upton leads to an area of reclaimed colliery spoil heaps. Two dragonfly ponds at the foot of the embankment are strangely devoid of life as we walk by. It's a warm day for the time of year but we see neither Frog nor Toad, while the garden pond at home now has at least 32 frogs in it.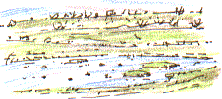 There's more life on the fishing lake to the south on North Elmsall Common, locally know as Johnny Brown's Common.



There are twenty or more Coot but fewer Moorhens and a pair each of Canada Goose and Mute Swan. A pair of Gadwall fly from one side of the lake to the other, alongside a small group of Tufted Ducks. The gadwall, a grey duck about the size of a Mallard isn't such a common sight locally.
We hear a Skylark singing over the rough around the lake, but don't spot it against the blue sky.






We make a slight detour in an attempt to avoid a soft muddy stretch of the track, and I'm glad we do. In the next field 600 Golden Plover are resting, a few of them preening. They're not in gold-and-black breeding plumage and from this distance they look like clods of earth thrown up by the plough.


On two small flooded areas of the field a few dozen Lapwings have gathered along with a flock of Black-headed Gulls (one or two now have brown heads), two Herons and a pair of Ringed Plovers. So that's three species of plover; gold, ringed and the lapwing, also known as the green plover or pewit.
In a hedge planted some years ago as part of the landscaping scheme, Blackthorn is now in blossom.
Seven Daisies

It's the warmest day of the year so far, after the sunniest winter , in England and Wales, for a hundred years. There's a saying that spring has arrived when you can cover three daisies with your foot. It's certainly here today, I can cover about seven, but I am wearing my size 13 hiking boots.

Barbara spots a Small Copper feeding on heather in a suburban garden in Wakefield.


Richard Bell,
wildlife illustrator
E-mail; 'richard@daelnet.co.uk'

Next day
Previous day
Nature Diary
Wild West Yorkshire home page