Ash and Elder
Tuesday 7th March 2000

Nature Diary
Rocks
History
Gallery
Links
Home Page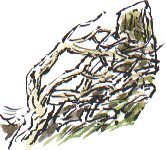 A DEAD ELDER by a field gatepost is bleached like bones on a strandline.

A clump of Ash on the hedgebank further along the lane has been slashed by the hedge trimmer on repeated occasions. Nobbly 'knees' mark old scars.











A swirl of grasses with a little moss included in the lining is set in one of the hedgerow bushes. It is probably a Wren's nest left over from last year. It is the shape of a beaker, set on its side. Three Blue Tits seem to be chasing one another in the branches of a Chestnut in the park, perhaps as a prelude to pairing up.

The puddle-come-pool has reformed in a field by the canal. Three Black-headed Gulls stand at its edge, not yet in their black-headed plumage alongside a single Lapwing. The lapwing sports a crest that is at least as long as its head. There's a metallic sheen on the green feathers on its back.


Richard Bell,
wildlife illustrator
E-mail; 'richard@daelnet.co.uk'

Next day
Previous day
Nature Diary
Wild West Yorkshire home page