Rhubarb, Railways and Ragwort
Monday 27th March 2000





Nature Diary
Rocks
History
Gallery
Links
Home Page


'WEEDS' AND AN 'ALIEN' are now in flower at the lock by Calder Island, Wakefield.

Fumitory (most likely Common Fumitory Fumaria officianalis) flowers at the foot of a wall. It has ferny, celery-like, leaves.

Pineapple Weed grows between the cobbles. It is resistant to trampling and smells of pineapple when crushed.

On the stone wall itself, Oxford Ragwort grows from a crevice. This member of the daisy family spread across the country via the railway network from the Oxford Botanical Gardens. Its original home was on the slopes of volcanoes in Italy.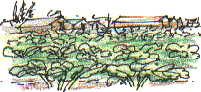 There's a healthy looking crop of Rhubarb in the low-lying fields by the river. But these crowns are 'resting'; tender stems are 'forced' in the long low rhubarb sheds. In the middle years of the twentieth century, a 'rhubarb special' train ran from Leeds to the markets in London.

The Great Northern Railway from Kings Cross enters Wakefield by the Ninety-nine Arches viaduct, opened in 1866. The cast iron bridge across the Calder sports little gothic towers, like chess pieces, on its substantial stone-built piers.


Richard Bell,
wildlife illustrator
E-mail; 'richard@daelnet.co.uk'

Next day
Previous day
Nature Diary
Wild West Yorkshire home page