Power 'pecker
Tuesday 28th March 2000





Nature Diary
Rocks
History
Gallery
Links
Home Page


DAFFODILS bloom by the hedge at Lady Ings Farm. A young Rabbit sits amongst the seedling corn (barley?), close to its home in the hedgebank. These are scenes you'd associate with Easter, but that falls late this year - it is still more than three weeks away.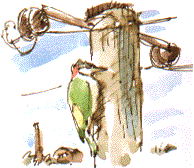 From the towpath we hear the 'Yaffle!' of a Green Woodpecker close by. For once, it is useful for me to be 6ft 4 inches tall. If I stretch to look over the thorn-topped embankment I can see it perched on a powerline pole. Barbara can't even see the top of the pole. Moving on we find a place where we can scramble up under the thorn bushes.
Like some cartoon woodpecker, it is sitting there clinging to the post, not drilling a hole, although it does seem to take a peck at a passing insect. There are more powerline poles than trees within a hundred yards of it and we have it with an old mungo and shoddy factory as a background. We tried, but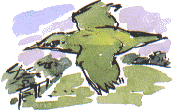 failed, to see green woodpeckers in the wood last week. It's wonderful to see this striking bird in such an incongruous setting. A symbol of the wilder side of West Yorkshire.


Richard Bell,
wildlife illustrator
E-mail; 'richard@daelnet.co.uk'

Next day
Previous day
Nature Diary
Wild West Yorkshire home page