---
Dawn to Dusk




Wild West Yorkshire Nature Diary,
Wednesday 24th November 1999
---
Nature Diary
Rocks
History
Gallery
Links
Home Page
---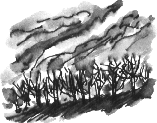 THERE'S FIERY RED in the sunrise above the wood this morning, but that's about the nearest to warmth we get today. It is dull, windy at times and this evening, as I write, the rain is lashing on the studio window.

I'm busy indoors all day, but, while I'm standing at the kitchen window waiting for the kettle to boil, I see a brown, barred, female Sparrowhawk cruise across the garden just a few inches above the hedgetops.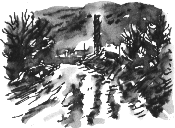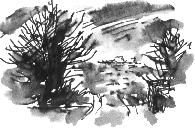 By four in the afternoon I can't stand being indoors any longer and I set out with my usual excuse, a letter to post. By then it's so dark that lights are reflected in the river and canal. Thorns are dark against the glow of the sky, which has a warm cast towards the west and a blue cast in the east.
Perhaps, somewhere behind all that ragged cloud, the full moon is rising.


Richard Bell,
wildlife illustrator
E-mail; 'richard@daelnet.co.uk'
---
Next day
Previous day
Nature Diary
Wild West Yorkshire home page

---