---

Five for Silver




Wild West Yorkshire Nature Diary,
Saturday 27th November 1999
---
Nature Diary
Rocks
History
Gallery
Links
Home Page
---


FIVE MAGPIES, proverbially for silver, have gathered by the cricket pitch. A couple of Black-headed Gulls fly down the valley as if casually browsing while one Kestrel flies across the the canal with a more powerful urgent flight, followed by a second.




Where thorn bushes line the canal banks at least two hundred Fieldfares and Redwings wheel about.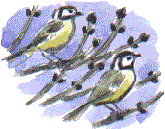 I don't think it's just the bare branches that make them more visible; there do seem to be more Great Tits around at this time of year.
It's barely two o'clock but it's so dull today that it feels like late afternoon. But at least in a month from now the days will be getting longer again.
A yellow lichen on a concrete post provides a welcome accent of colour.


Richard Bell,
wildlife illustrator
E-mail; 'richard@daelnet.co.uk'
---
Next day
Previous day
Nature Diary
Wild West Yorkshire home page

---