---

Ferns




Wild West Yorkshire Nature Diary,
Sunday 28th November 1999
---
Nature Diary
Rocks
History
Gallery
Links
Home Page
---

BROAD BUCKLER-FERN grows by the stream. Bracken has now died back after frosts but the fronds of buckler-fern are still green. The stem has dark brown scales.

Most of the fern-like growth in the hedgerow and on the laneside is actually Hedge Parsley, a flowering plant.

Hart's Tongue fern adds an exotic touch to a broken wall by the corner shop in the village. It now has sporangia arranged along the back of some of its fronds.


Further along on this shaded north-facing wall a few small plants of of Black Spleenwort and Wall Rue grow from the crevices between the bricks.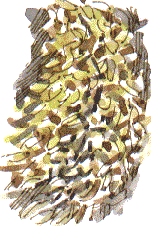 Wind flurries the canal. It has driven leaves to the edge of the sheltered stretch, where they float on the surface like a swirling cape in a Klimt painting.


Richard Bell,
wildlife illustrator
E-mail; 'richard@daelnet.co.uk'
---
Next day
Previous day
Nature Diary
Wild West Yorkshire home page

---