---

Oaks




Wild West Yorkshire Nature Diary,
Friday 29th October 1999, page 1/3
---
Nature Diary
Rocks
History
Gallery
Links
Home Page
---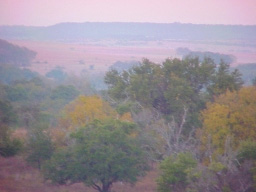 IN MY MORNING E-MAIL there's a photograph of the previous day's morning mist in Texas, from Rheba Kramer Mitchell, taken from her front porch. It's not the what I expect; I think of Texas as arid plains. There are echoes the view from my studio window.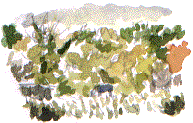 Here in this West Yorkshire valley, the trees I'm looking out on are Ash, Sessile Oak, Sycamore and Crack Willow.
'We live in the Texas Hill Country,' writes Rheba, 'with gentle rolling hills and Escarpment Live Oaks, Spanish Oaks, Texas Ash trees and my favorite, Sycamores among others.'
Rheba and her husband Farris manage their 120 acre ranch, The Lair, with wildlife in mind. There are bobcats, deer, turkey (yes, the wild variety), raccoons, skunks and all kind of birds.
'Believe it or not, we have actually found gastroliths, or dinosaur gizzard stones on our place. We are not far from Texas' Dinosaur Park where one can see actual dinosaur foot prints of two kinds imbedded in the rock at the edge of a stream.'
Take a look at the ranch, and Rheba's watercolours and computer artwork at;

The Lair.


Richard Bell,
wildlife illustrator
E-mail; 'richard@daelnet.co.uk'
---
Next page
Previous day
Nature Diary
Wild West Yorkshire home page

---