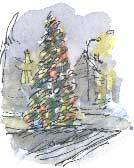 I noticed while adding my 'this day last year' links that a year ago I was grumbling about the way our Christmas tree by the roadside at Horbury Bridge was swathed in lights only above vandal-level. It looks so much better this year with lights coming right down to the ground and, so far, not one of them has been interfered with (a few days after writing this I noticed one or two seem to have gone! But the overall effect is still Christmassy).

I'm striding up to midnight mass at St Peter's in Horbury. When we emerge after the service the skies have cleared with a bright moon high over the town and Orion looming in the southern sky.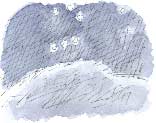 In previous years I've heard a robin singing on my walk back from church. Although tonight it's just as light under the security lights and streetlamps it's probably too cold for birds to sing.
A bank of clouds is approaching rapidly from the south west and, by the time I get back to our street, Orion is waist-deep, right up to his sword belt, in a brooding river of silvery grey.

Richard Bell, richard@willowisland.co.uk