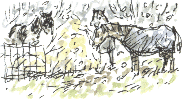 There's a short snowfall, the first I remember on a Christmas morning for years. It soon builds up into large fluffy flakes but it doesn't settle at all here. It's a different story a few miles up the road as we can tell from the snow-topped vehicles coming down the Huddersfield Road.


Christmas day at Barbara's sister Susan's gives me the briefest of chances to draw children and their grandparents, in fact these three unfinished sketches are as far as I get between unwrapping presents, eating, drinking and talking, but the tables are turned on me, portrait-wise, as my nephew Arden is trying out his digital SLR. Barbara thinks I'm looking a bit gaunt on this but I was evidently enjoying the day so it's a good opportunity to change the mugshot on my home page. Thanks, Arden.

Festive Fruits
Carl and Susan present Barbara and I with four oranges, a traditional gift to stuff into a child's Christmas stocking (these come in a couple of lime green stockings which were handed out to passengers on the Virgin Transatlantic flight). They then present us with a juicer, so I look forward to trying that out.
Apparently a Christmas dinner plus drinks can reduce your intellectual capacity by 80%. I draw these oranges before our turkey and all the trimmings and Christmas pudding as people moving about continuously are already proving too much for me. Even so my powers of concentration already seem to be on the wane; I paint a tonal wash on the fruits in Payne's grey with the result that when I wash over them in orange I get a greenish cast in the shadows.


Amongst my gifts are a couple of Staedtler Mars professional fibre tip pens in the largest and smallest nib sizes (0.18 and 0.7 mm). I've drawn the outlines of the oranges in the large size, the stippled peel in the smallest. As the ink is waterproof I was able to draw first and then add the wash.
Owls at Twilight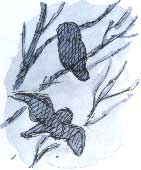 Around 5 p.m. I go out to the car with a bag of our gifts to a lot of twitting and hooting in the back yard. A tawny owl flies into the sycamore above my head and starts 'kiwikking' and while a second bird nearby that is 't'wooing back at it'. The second bird shows itself and the two continue fly off to continue their noisy conversation in the treetops.

Richard Bell, richard@willowisland.co.uk